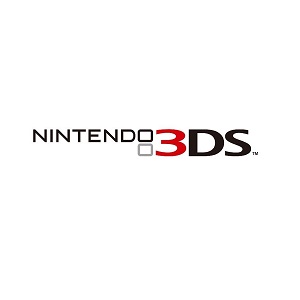 La Nintendo 3DS est une console portable de huitième génération développée par Nintendo, ayant pour particularité l'affichage en 3D auto-stéréoscopique (sans lunettes). La Nintendo 3DS succède à la Nintendo DS, et est rétrocompatible avec les logiciels de cette dernière. Sa concurrente principale est la PlayStation Vita de Sony.
La Nintendo 3DS détient le record du lancement le plus rapide au Japon pour une console, ayant dépassé le record établi par la Game Boy Advance, avec plus de 4,7 millions d'unités vendues en 11 mois.

---
3DS ZELDA 25ème ANNIVERSAIRE
3DS XL ZELDA A LINK BETWEEN WORLDS
ANIMAL CROSSING : NEW LEAF
◊

 14/06/2013
◊ NINTENDO

ANIMAL CROSSING : HAPPY HOME DESIGNER
CASTLEVANIA: LORDS OF SHADOW – MIRROR OF FATE
COCOTO ALIEN BRIK BRACKER
◊

— 28/07/2017
◊ NINTENDO

◊

 03/11/2017  (Sous Blister)
◊ NINTENDO

MARIO & LUIGI: DREAM TEAM BROS.
MARIO & LUIGI: PAPER JAM BROS.
MARIO & LUIGI: SUPERSTAR SAGA
◊

  06/10/2017  (Sous Blister)
◊ NINTENDO

METROID PRIME: FEDERATION FORCE
◊

  28/07/2017  (Sous Blister)
◊ NINTENDO

NINTENDO POCKET FOOTBALL CLUB
◊

— 16/01/2015
◊ NINTENDO

PAPER MARIO: STICKER STAR
◊

 28/11/2014  (Edition Limitée)
◊ NINTENDO

◊

 13/11/2016  (Edition Collector)
◊ NINTENDO

POKEMON MEGA DONJON MYSTÈRE
PUZZLE & DRAGONS Z + SUPER MARIO BROS EDITION
SEGA 3D CLASSICS COLLECTION
SONIC & ALL-STARS RACING TRANSFORMED
SUSHI STRIKER: THE WAY OF SUSHIDO
◊

— 08/06/2018
◊ NINTENDO

SUPER STREET FIGHTER IV 3D EDITION
THEATRHYTHM FINAL FANTASY
THE LEGEND OF ZELDA : A LINK BETWEEN WORLDS
THE LEGEND OF ZELDA : MAJORA'S MASK 3D
THE LEGEND OF ZELDA : OCARINA OF TIME 3D
THE LEGEND OF ZELDA : TRI FORCE HEROES
◊

  27/07/2018  (Sous Blister)
◊ NINTENDO