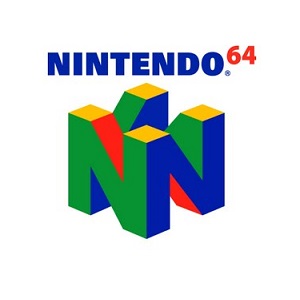 La Nintendo 64, également connue sous les noms de code Project Reality et Ultra 64 lors de sa phase de développement, est une console de jeux vidéo de salon, sortie en 1996 (1997 en Europe), du constructeur japonais Nintendo en collaboration avec Silicon Graphics. Elle fut la dernière des consoles de cinquième génération à être sortie, en concurrence avec la Saturn et la PlayStation.

---
AKUMAJO DRACULA MOKUSHIROKU
AKUMAJO DRACULA MPKUSHIROKU GAIDEN: LEGEND OF CORNELL
BOMBERMAN HERO : MIRIAN OJO WO SUKUE!
BANJO TO KAZOOIE NO DA DAIBOUKEN
BANJO TO KAZOOIE NO DA DAIBOUKEN 2
DOREAMON : NOBITA TO MITTSU NO SEIREISEKI
GANBARE GOEMON : NEO MOMOYAMA BAKUFU NO ODORI
GANBARE GOEMON : DERODERO DOUCHU OBAKE TENKOMORI
GOEMON : MONONOKE SUGOROKU
HYPER OLYMPICS IN NAGANO 64
ITOI SHIGESATO NO BASS TSURI NO.1 KETTEIHAN!
MULTI-RACING CHAMPIONSHIP
NINTENDO ALL-STAR! DAIRANTOU SMASH BROTHERS
OGRE BATTLE 64 : PERSON OF LORDLY CALIBER
POKEMON STADIUM KIN GIN CRYSTAL
◊
— 31/10/1997
◊ COMPILE

STAR SOLDIER : VANISHING EARTH
STAR WARS : TEIKOKU NO KAGE
STAR WARS EPISODE I: RACER
STAR WARS : ROGUE SQUADRON
SUPER B-DAMAN BATTLE PHOENIX 64
THE LEGEND OF ZELDA : MAJORA'S MASK

THE LEGEND OF ZELDA : MAJORA'S MASK

THE LEGEND OF ZELDA : OCARINA OF TIME
THE LEGEND OF ZELDA : OCARINA OF TIME
WAVE RACE 64: KAWASAKI JET SKI
WAVE RACE 64: KAWASAKI JET SKI
YUKE YUKE! TROUBLE MAKERS